SUCCESS STORIES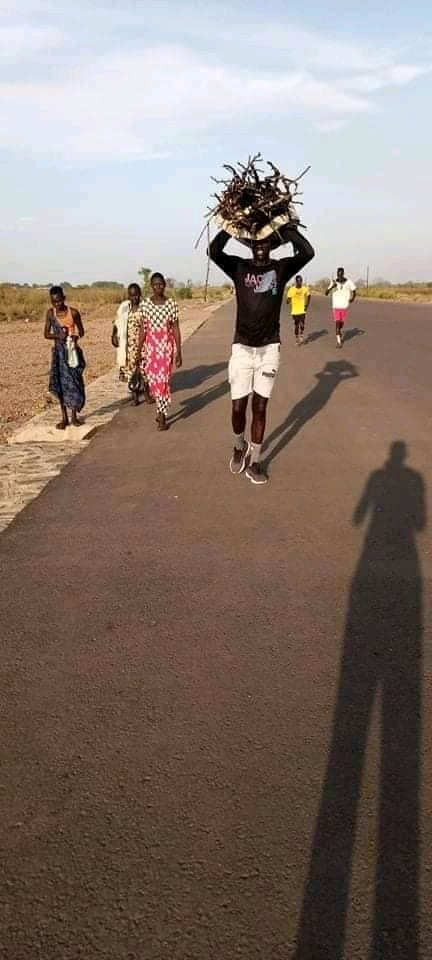 Alfred Angui Akeen works voluntarily as director AWL GEA in South Sudan. He is a Fourth-year University of Juba Medical Student. Please take time to read what Alfred Angui Akeen said hereunder:
It was Wednesday evening in November 2021. I went out jogging together with some friends. We started our jogging at around 2:30 pm, and we covered a distance of approximately 23km off Juba. We reached a certain village called Kuirjiek, Mundari land. 
On our return, I saw a lactating middle-aged lady sitting under a tree resting in the middle of the forest and beside her was a bundle of firewood; I slowed down my speed and went to her place where she cited. I was jogging with nine gentlemen. They left me when I had decided to remain behind them; I asked the lady what was wrong, why she sited here while it's the middle of the forest and it's also getting late and the distance still to cover is far. She told me that she was tired and thirsty too because of the far distance she collected firewoods from, and the baby was also crying. I felt pity for her, I requested her to give me firewood, but she was not happy about my request due to some cultural reasons. I disagreed with her until she accepted me to carry firewood. We started our journey together, she was carrying the baby, and I was carrying the firewoods.
On our way, we became friends, and from there, I got a chance to ask her some questions. My first question was: Where do you live in Juba? She said in New site. Second question: why do you come to this far place for firewood and you are carrying a baby? She said she's a widow, she has three kids, and they are all still young; no one can remain with the baby. She also added that she couldn't afford the cost of Charcoal due to the economic hardship she was experiencing.
Her situation went deep in my heart, and I was also shedding tears. Thirty minutes later, I became tired because it was my first time carrying a heavy bundle of firewood, so I asked her to rest under the tree. We both sited to rest for ten minutes until a certain woman, and her daughter reached us under the tree. They rested too. After some minutes, we all took off, including the woman and her daughter; the little girl was laughing at me because of carrying firewoods while I am a man.
At the same time, while on the way, I was ridiculous by some fellow men who thought a man couldn't do a woman's job, but I didn't mind them. It was my sacrifice on my side because Dinka culture doesn't allow some works traditionally meant for women to be done by men. I have chosen to dedicate my life for humanity. I decried the heaviness of the firewoods and countlessly felt a great sense of sympathy towards such a window for the difficulty she experienced while carrying both the baby and the firewoods. It took us three hours walking to reach residential; I rested for eight times on the way before reaching her place.
I was photographed while caring the firewoods unknowingly by a person whom I don't know; I saw one young man standing in front of us when we were about to reach the residential recording a video for his brothers who were running behind us; I didn't mind about him because he was recording his own brothers, I think he might be the guy who captured my picture and shared it on social media. I left the lady at Bilpam checkpoint, where her house is just ten minutes to reach on footing. It was getting dark, and I had no money to take transport. Though I was tired, I should have to try to run slowly to reach my destination. It took me another one hour to reach home.
From the starting time of my jogging which was 2:30 pm, I came back home at around 8:15 pm. I reached home when I was very tired, and I couldn't look behind too because my neck pains a lot. It took me five days to recover from neck pain. I feel happy to help someone in need regardless of where they come from. To become a doctor, you need a compassionate heart. I also wanted to show an example that men can help their mothers, their sisters, or strangers even if the culture says we should not, and this is what this country wants, to help one another.